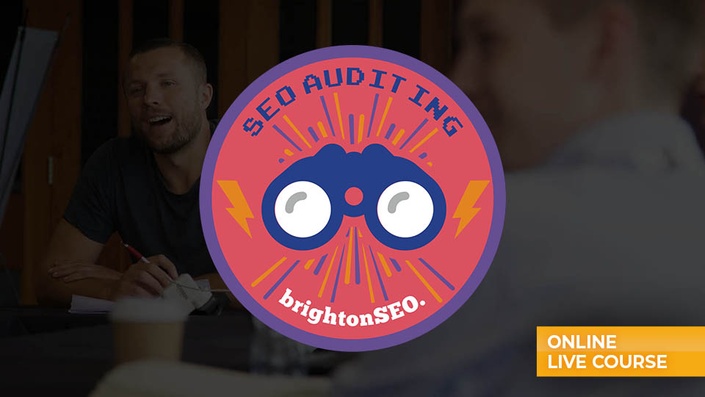 SEO Auditing Training - online live. 7th April 2021
Learn how to improve the quality and value of your SEO audits.

The process of auditing a website is one of the key SEO processes, regardless of whether you're working for an agency, as a freelancer or in-house.
This practical and hands-on course really delves into detail on how to produce world class technical SEO audits. These are the kind of audits that deliver better results, that you can charge more for and that make the most of the search marketing opportunity for you or your client's business.
With mobile first now well and truly upon us and Google's algorithms seemingly favouring technically sound websites more and more with every update, the technical SEO auditing process has changed considerably over the years. This training day will ensure that you are up to speed with every aspect of auditing, and will offer some handy tips on best process and documentation.

Course content
Google Search Console Revealed
Verify yourself as site owner
Keep track of multiple users with access privileges
Integrate with Google Analytics
Crawl errors and what to do with them
How to interpret crawl stats
Search analytics. How to report and act on this data
Upload and submit XML Sitemaps. Various types and how these should be formatted
How to get this absolutely perfect
Check for manual actions. What causes these?
HTML improvements. How to utilise this
Check for structured data errors and utilise rich cards
Check for robots.txt errors
International targeting – hreflang
Fetch and render
Blocked resources
URL parameters
Mobile optimisation
Check for abnormalities with Googlebot crawling your site
Review your backlinks and unnatural looking anchor text
Check for mobile issues
What can you do with the new Google Search Console (Beta). The new URL inspection tool. Year on year non brand analysis.
Accelerated Mobile Pages
Interpreting Crawl Reports
Landscape of Crawl tools – from Xenu Link Sleuth to DeepCrawl and new JavaScript friendly crawlers such as SiteBulb
The Screaming Frog Interface – The main pane (incl right click options), right pane (overview, Site Structure, Response times), bottom pane (individual URL overview)
Gather basic website data
Internal Crawl Report (default report) – Meaning of each field, what to look for, how to filter and export
Customise the crawl – Include/Exclude URLs, Spider (crawling canonicals, nofollows, robots.txt. etc); Crawl Speed; Choosing User-agent
Alternate types of crawls – URL lists, SERPs, Sitemaps
Analysing Reports (All pages Vs Indexable pages etc)
Duplicate content – URL report filtered by duplicates, URLs, duplicate titles, canonicals, secure/non-secure dups
Thin content
Crawling and indexing control (canonical elements, meta robots, etc)
Site speed – response times, page size (in bytes), image sizes
Missing / Duplicate / Unoptimised page elements (title tags, meta descriptions)
Exporting and editing titles and meta descriptions
Analysing Images – sizes, missing alt, over 100kb
Analysing site structure – organisation, hierarchy, internal linking (inlinks/outlinks). Adhering to a strict silo structure.
Exporting bulk data (esp 404s or 302s, canonicalised URLs, images missing alt)
Broken internal and external links
Sitemaps – creating, exporting, non-200 pages, non-canonical URLs, blocked pages, orphaned pages (in sitemap)
Exporting & Reports – Crawl Overview, Redirect Chains, Canonical Errors, SERP Summary
Mobile vs Desktop Crawls
How to complement this analysis with your server log analysis
How to present this data to developers if required
Link Analysis
How to determine a bad link. Context and sector etc.
Referring Domains Vs Total Link Count. What is the best ratio.
The different types of links (sitewide, widget, embedded in content and editorially given, paid). Followed vs. NoFollowed
Quality backlinks vs. links from spammy sites or article directories
Why it pays to be careful with rich anchor text
How to analyse your link data with Ahrefs, Search Console and other tools such as LinkResearchTools
Google Penguin and Manual Penalties
What to do with problem backlinks. Different scenarios
Use Google Search Console Crawl Errors and Ahrefs reports to do broken link building
How to measure SEO site authority (Moz, Majestic, Ahrefs)
Looking at your competitors' link metrics
Looking at your competitors' profiles to get ideas, find gaps & get intel on their strategy
What keywords/anchor text are your competitors targeting?
Run through of Ahrefs
SEMRush, Sistrix etc
Classic Tech SEO Mistakes and How to Fix Them
Page Titles – Not descriptive, ie. setting the home page title to "Welcome"
Page Titles – Putting the Brand or Domain Name as the prefix in every page title on the site
Having the same meta description or page title for multiple pages
Not setting the page title or meta description
Duplicate header tags
Not heeding recommended lengths for your page title and meta description tags
Keyword stuffing your tags, including the meta keywords tag
Not setting the alt tags on your images
Not renaming your images to a descriptive filename before uploading them to your site
Not implementing a top level canonical redirect
Having non indexable pages in your XML sitemap
Hreflang tags reciprocated and pointing at 200 pages
Canonicals pointing at 200 pages
High external linking
Redirect loops
Mixed content issues (http resources after https migration)
Having very similar pages in the search engine index (cannibalisation)
Having thin pages in the search engine index
Natural keyword placement (wary of Panda) and anchor text
Avoiding doorway pages (some analysis of "Fred Update")
Pagination issues
Not returning a HTTP status code 404 or 410 on pages that are meant to be errors. Soft 404's
Classic migration or website redesign mistakes (redirects, URL structure changes etc)
Spammy structured data
Having pages that are too many clicks away from the home page
Blocking search bot access to JavaScript and CSS files in the robots.txt file
Crawl bloat and resulting index bloat
Not having your internal links set up as text links
URL & silo structure issues
OpenGraph data etc
Page Speed and Mobile Optimisation
Why Page Speed is important for SEO. Recent update from Google on what sites will be impacted
Most common page speed issues (Image size, compression, external JS calls)
Measuring page speed with Page Speed Insights (Mobile and Desktop)
Measuring page speed with Pingdom
Measuring page speed with Webpagetest (load time, first byte time, compress images, cache static content, bytes in). Content Breakdown Report, Waterfall View, Request Details.
Inspecting element. Check the console and the render
Compare crawls of various user agents. Is linking sound on all devices (mobile first)
Crawling of JavaScript. Using Screaming Frog and SiteBulb
Chrome Developer Tools (Lighthouse) Run through of new report and how to do batch audits (shout out to Builtvisible)
Google Analytics (Site Speed, Page Timings, Speed Suggestions)
Types of Mobile sites: Responsive Design, Dynamic Serving, Separate Mobile Site
Common Mobile Errors
Google Search Console (Search Analytics – Devices, Mobile Usability, Mobile Device Errors)
Chrome developer tools (mobile device emulator)
AMP – what is AMP, should you implement it?
Keyword Research
Keyword research essentials
Information keyword tools provide
Keyword metrics
How Google processes keywords today (RankBrain, conversational queries)
Brainstorming a seed list
Google Suggest & Related Searches
Youtube Suggest
Ahrefs Keyword Research
Answer The Public
Bing Keyword Tool
Google Trends
Google AdWords Keyword Planner
Hittail Keyword Ideas
Keyword difficulty
Sistrix keyword tools
SEMRush (competitor keywords, SEO Keyword Magic, featured snippets)
Keyword mapping
Putting your keyword plan into action
Tracking rankings (AWR, Moz and other tools)
How to use all these keywords naturally
Using Server Logs for Additional Insight
Crawl errors from all search engines
Events – learning which pages are crawled the most and actions
Mobile Vs Desktop (seeing if your site is mobile first)
Search engines
User agents
Effective use of crawl budget
Establishing pages that aren't being crawled
Page speed insight (direct from server)
Canonical URLs missing from XML Sitemap
Who is this course for?
Generalist SEO's, SEO's with junior - intermediate experience.
What you'll gain from this course
We'll take a walk step-by-step through everything you should be looking for and including in your SEO audits.

Your Instructor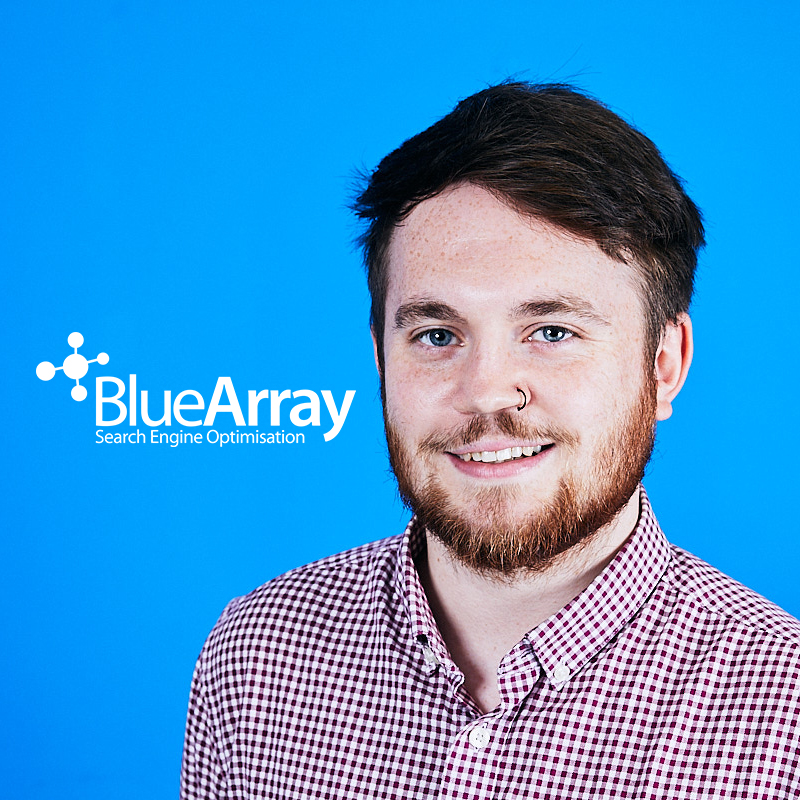 Jordan Francis is an SEO Manager at Blue Array. Jordan has worked across growing start-ups, global publishers and established household brands with a keen focus on affecting the bottom line. He has a particular interest in large-scale SEO and enjoys the technicalities and challenges that come hand in hand with larger websites.

Course Curriculum
What we'll cover during the day
Available in days
days after you enrol
Frequently Asked Questions
How is the ONLINE LIVE training structured?
We've opted to mirror our in-person format as much as possible, so your training will take place over one day. This means you only need to book one day away from other commitments, and can really get into the subject matter.
How is the ONLINE LIVE training delivered?
The online training will be delivered over our webinar platform so you'll be able to see and hear the trainer (much like a Zoom call) along with their training materials, slides and screen shares. You'll be able to participate and ask questions etc via your mic or the on screen chat, and depending on the course, your trainer may also make use of web-based online collaboration tools.
When does the course start and finish?
The standard times for our online training are 10am - 4pm (UK time). This may vary slightly from course to course, and if so your trainer will be in touch with specific timings.
What will I need?
To participate in the live online workshops you will need a video conferencing set-up on your computer - ie a computer with speakers / headset and mic. Our webinar platform recommends an ideal connection speed of >10mps, and ideally on a hardline/ cabled connection (rather than over wifi), which offers increased reliability. We're aware that you will probably be in your day-to-day workspace. We recommend that you put your Out of Office on, and resist the temptation to check emails throughout the day so you can get the most out of the course.
What are the 1-2-1s all about?
Your training page may include mention of 1-2-1s with your trainer as part of the course.This is a (optional) 20 minute consultation with your trainer, which will be bookable directly with them after your training. It is intended to offer the means to ask any specific questions you may have, and may not get the opportunity to ask in the online training format.
Will the session be recorded?
Yes, the session will be recorded, and be available for participants to view for 30 days after your training. The recorded material from your training may also be used in other training packages in the future. For more information on this, email
[email protected]
What if I am unhappy with the course?
Just like our face to face training courses we want you to be completely satisfied with the course. If you are unsatisfied with your purchase, contact us within 15 days of your course and we will give you a full refund.