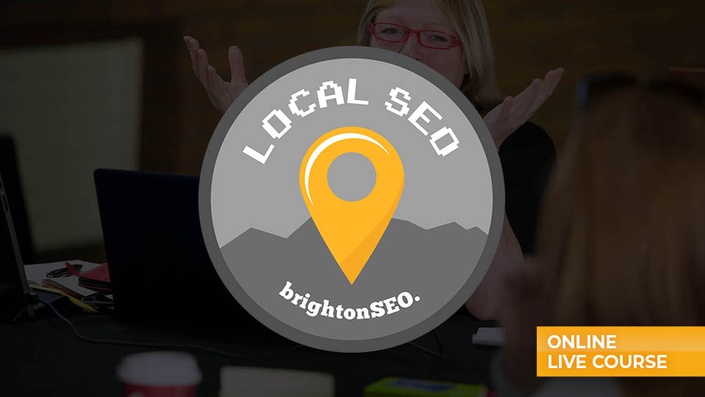 Local SEO & Google My Business - online live. 31st March 2021
How to rock your online visibility in a post-COVID world
As Greg is based in the US, this course will run from midday - 6pm BST
COVID has changed consumer behaviour at a fundamental level, and all purchases now start with localised searches on Google. This course will give an end-to-end overview of local search for marketers of all abilities, and attendees will leave with all of the skills necessary to implement pioneering local strategies for clients or within their own companies.
Course Content
This workshop will outline the business case for local search and walk through the best practice technical implementation for ranking in Google's local results.
The latter half will detail the ongoing marketing processes that are so vital to the long-term success of local and mobile search marketing.
The Case For Local Search & A Very Brief History — Local search has grown up fast over the past few years. Understand how it's grown, and the potential of owning your area and reaching customers in their own backyard.
How To Verify Google My Business Listings & Implement Best Practices – Google My Business has added many new features that can be used to directly drive more conversions AND increase your rankings. You'll learn how to make sure you're getting the most from all of them.
Citation Management – You'll see how to audit your existing citation profile, fix problems, discover new opportunities, and ensure you have maximised the benefit you can get from citations.
Review Acquisition – Reviews are one of the most important aspects of local search. You'll learn which review sites to focus on and how to get a steady stream of positive reviews.
Local Website Optimisation – You'll be walked through the most effective local optimisation tactics for your websites.
Local Link Building – Nothing drives local search rankings like quality local links. Learn how to prospect for and acquire the links that will push your rankings past the competition.
The Future of Local – Look into the crystal ball and understand where Google is heading and how you can stay one step ahead.
Who is this course for?
All levels, in house, agency, solo freelancers.

What you'll gain

Insight into gaining visibility in local searches and winning in a post-covid world.

Your Instructor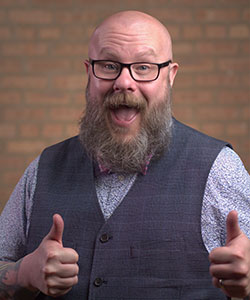 Greg Gifford is the Vice President of Search Marketing at SearchLab, a boutique marketing agency specialising in Local SEO and PPC. He's one of the most in-demand speakers at digital marketing and automotive conferences all over the world, with dynamic movie-themed presentations packed full of actionable tactics and information. He's got over 17 years of online marketing and web design experience, and his expertise in Local SEO has helped hundreds of businesses gain more visibility in local searches.

Greg graduated from Southern Methodist University with a BA in Cinema and Communications, and has an obscure movie quote for just about any situation.
Course Curriculum
The course will cover the following over the session:
Available in days
days after you enrol
Frequently Asked Questions
How is the ONLINE LIVE training structured?
We've opted to mirror our in-person format as much as possible, so your training will take place over one day. This means you only need to book one day away from other commitments, and can really get into the subject matter.
How is the ONLINE LIVE training delivered?
The online training will be delivered over our webinar platform so you'll be able to see and hear the trainer (much like a Zoom call) along with their training materials, slides and screen shares. You'll be able to participate and ask questions etc via your mic or the on screen chat, and depending on the course, your trainer may also make use of web-based online collaboration tools.
When does the course start and finish?
Greg is based in the US, so this course will run from midday - 6pm BST
What will I need?
To participate in the live online workshops you will need a video conferencing set-up on your computer - ie a computer with speakers / headset and mic. Our webinar platform recommends an ideal connection speed of >10mps, and ideally on a hardline/ cabled connection (rather than over wifi), which offers increased reliability. We're aware that you will probably be in your day-to-day workspace. We recommend that you put your Out of Office on, and resist the temptation to check emails throughout the day so you can get the most out of the course.
What are the 1-2-1s all about?
Your training page may include mention of 1-2-1s with your trainer as part of the course.This is a (optional) 20 minute consultation with your trainer, which will be bookable directly with them after your training. It is intended to offer the means to ask any specific questions you may have, and may not get the opportunity to ask in the online training format.
Will the session be recorded?
Yes, the session will be recorded, and be available for participants to view for 30 days after your training.
What if I am unhappy with the course?
Just like our face to face training courses we want you to be completely satisfied with the course. If you are unsatisfied with your purchase, contact us within 15 days of your course and we will give you a full refund.