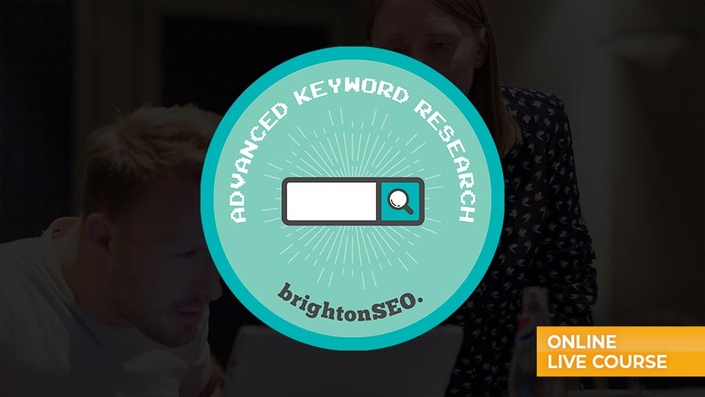 Advanced Keyword Research online live. 1st April 2021
In one day, take your knowledge of basic keyword research to the next level, and leave with plenty to take away and implement.

Over the course of the day, you'll not only learn about a variety of keyword research techniques but you'll be able to start approaching the research process completely differently, seeing things from a different perspective with the end goal being able to identify and optimise for phrases that will increase traffic and conversions.
Course content
Introduction
Understanding Business Goals
Search Intent & The Buyer's Journey
Seed Keywords
Competitor Analysis
Finding keywords, quick ranking opportunities & tools
Prioritising keywords and mapping
Content planning
Recap
Who is this course for?
This course is designed for any marketer who regularly conducts keyword research projects and wants to go beyond the basics to identify new terms and opportunities to help their clients or business. Whether you're new to the game, or have experience in keyword research; if you want to step up a gear, by the end of the day you'll have mastered the art of keyword research and will have a solid foundation for future projects.
What you'll get out of this course?
You'll understand how to conduct in-depth keyword research for your client or business website, develop an understanding of the wider process behind a users search, how to identify relevant keywords to optimise for and how you can take your research from a spreadsheet to getting it correctly implemented on your site.

Your Instructor
Dan is Aira's resident keyword research expert, working with clients ranging from SMEs to internationally recognised blue chip organisations. With a background in SEO, both agency and in-house, he is vastly experienced in the realities of implementing successful SEO programmes. From research and auditing to on-page and off-page, he is passionate about ensuring that the work he does creates real-world benefits.
In his spare time he is the founder of MK Search, a quarterly meetup based in Milton Keynes, and a huge fan of ice cream and Chelsea FC.
Course Curriculum
We will cover the following topics over the day
Available in days
days after you enrol
Frequently Asked Questions
How is the ONLINE LIVE training structured?
We've opted to mirror our in-person format as much as possible, so your training will take place over one day. This means you only need to book one day away from other commitments, and can really get into the subject matter.
How is the ONLINE LIVE training delivered?
The online training will be delivered over our webinar platform so you'll be able to see and hear the trainer (much like a Zoom call) along with their training materials, slides and screen shares. You'll be able to participate and ask questions etc via your mic or the on screen chat, and depending on the course, your trainer may also make use of web-based online collaboration tools.
When does the course start and finish?
The standard times for our online training are 10am - 4pm (UK time). This may vary slightly from course to course, and if so your trainer will be in touch with specific timings.
What will I need?
To participate in the live online workshops you will need a video conferencing set-up on your computer - ie a computer with speakers / headset and mic. Our webinar platform recommends an ideal connection speed of >10mps, and ideally on a hardline/ cabled connection (rather than over wifi), which offers increased reliability. We're aware that you will probably be in your day-to-day workspace. We recommend that you put your Out of Office on, and resist the temptation to check emails throughout the day so you can get the most out of the course.
What are the 1-2-1s all about?
Your training page may include mention of 1-2-1s with your trainer as part of the course.This is a (optional) 20 minute consultation with your trainer, which will be bookable directly with them after your training. It is intended to offer the means to ask any specific questions you may have, and may not get the opportunity to ask in the online training format.
Will the session be recorded?
Yes, the session will be recorded, and be available for participants to view for 30 days after your training. The recorded material from your training may also be used in other training packages in the future. For more information on this, email
[email protected]
What if I am unhappy with the course?
Just like our face to face training courses we want you to be completely satisfied with the course. If you are unsatisfied with your purchase, contact us within 15 days of your course and we will give you a full refund.